FI and I celebrated a lovely belated Valentine's Day on Tuesday night. We went out to dinner at Logan's, mostly because they have 2-meals-for-$12.99 special on Mondays and Tuesdays [everyone should check out the Teriyaki Chicken – it rocks] Commercialized holidays are not our favorite, mostly because my birthday is my favorite holiday, but we had fun none the less. At the end of the meal FI has a strange look on his face.
Me: What's wrong? Is everything okay?
FI: No, actually its not. That lady [points] is letting her Macaroni and cheese get cold and it's pissin me off!

I see now what he is staring at with a "if you don't hurry up and eat that… I will" face. Right next to us, at one of those tables that should never have been made for two people because it's really only big enough for one, was a big-haired lady, wearing entirely too much make-up. She was having dinner with her husband while taking a business call, actually
yelling
a business call on her cell phone and writing things down on a napkin. She had her meal pushed to the side and there it sat….. a steaming orange pile of creamy Mac N Cheese.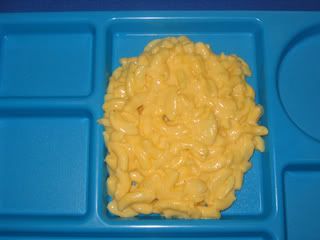 Much to his chagrin, we are working on him not eating off of stranger's plates- so I politely ignored his comment and prayed he didn't reach his hand over towards her meal.